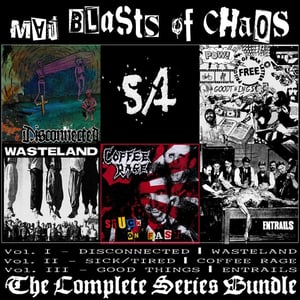 €

10.00 - On Sale
Mad Blasts Of Chaos Vol. I a.k.a. DISCONNECTED | WASTELAND - Split 7"
DISCONNECTED: dirty & aggressive HC from Toledo, MI
WASTELAND: frantic & menacing HC from New Zealand!

Mad Blasts Of Chaos Vol. II a.k.a. SICK/TIRED | COFFEE RAGE - Split 7"
SICK/TIRED: fast & brutal HC from Chicago, IL ex- MK-ULTRA & WEEKEND NACHOS
COFFEE RAGE: blasting Scandi D-beat mixed with crazy Japcore from New Zealand with people from GAWJ & ABORTED CHRISTIANS!
Mad Blasts Of Chaos Vol. III a.k.a. GOOD THINGS | ENTRAILS - Split 7"
GOOD THINGS: melodic but snotty HC/Punk from Canada
ENTRAILS: raw & heavy HC from New Zealand with a metal edge.
the split 7"es of the Mad Blasts Of Chaos series are all sealed with an obi-strip and include inserts & stickers!